Facilities of Hanshin Port
Hanshin Port forms the largest logistics center in the Western Japan with container terminals, ferry terminals and various logistics-related facilities.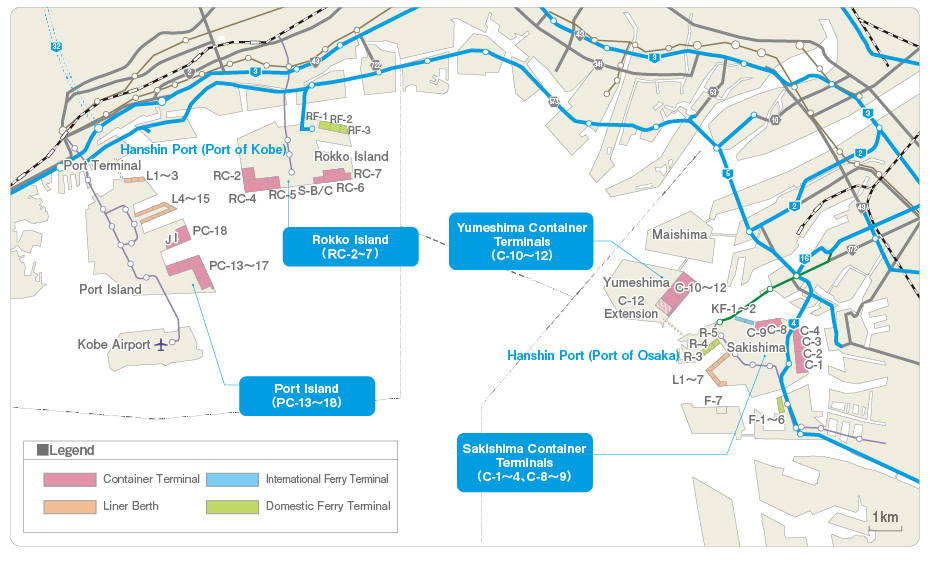 Port Island (PC-13〜18)
Most advanced container terminals of 15 – 16 m deep are developed to meet the global needs. The terminals boast of the eco-friendly operation by introducing transfer cranes of hybrid type.
Sakishima Container Terminals(C-1~4、C-8~9)
As one of the long-standing container logistics hubs at the Port of Osaka, container ships to/from Southeast Asia, China and Australia mainly call Sakishima Container Terminals.
Rokko Island (RC-2〜7)
High-standard container terminals of 13 – 16 m deep are located together with air cargo terminals to function as a comprehensive logistics center combining sea, land and air transportation.
Yumeshima Container Terminals (C-10~12)
A mega-operator DICT offers efficient container handling by integrated operation of the terminals.